Kalimpong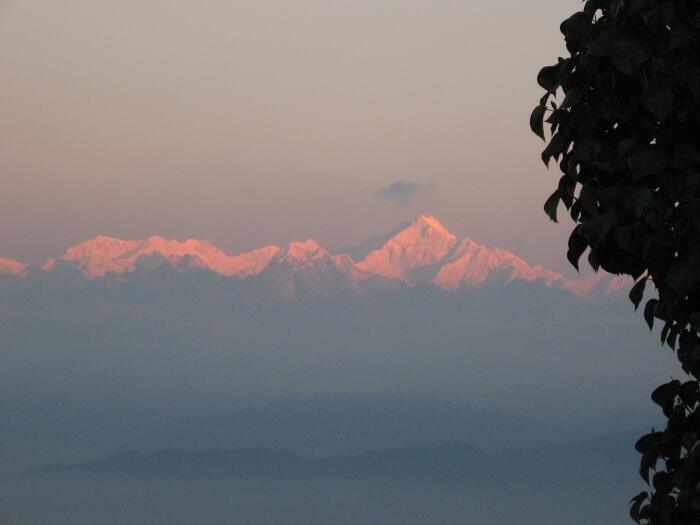 Kalimpong a hill station nestled in the Shiwalik Hills / Lower Himalaya, located on a ridge connecting two hills, Deolo Hill and Durpin Hill, in the Indian state of West Bengal. It is located at 27.06° N 88.47° E at an average elevation of 1,243 meters / 4,078 feet. A heritage town dating back to pre historic age was a trading center. Kalimpong is a quieter destination, fabled for orchids, rarest cacti and nurseries. It is a Hill Station buzzing with fun and frolic. It offers its traveler spectacular views of the Mount Kanchendzonga and its range. Milder climate coupled with dense forest offset by the rich undergrowth of moss and lichen provide an ideal setting for calm walks on cushions of auburn leaves. It makes Kalimpong a paradise for tourist. It enjoys a pleasing weather, friendly people and bustling marketplace almost throughout the year thus best for quiet and relaxed holiday. We are professional of tourism business, we arrange for easy booking, 24/7 support of vehicle and hotel, homestay, Tea Bunglow and resort. Our packages cover heritage site, temple & monuments, Lakes, rivers & stream, & Himalayas, Lava, Rishyap & Lolaygaon visit.
Flora and fauna in this region makes this an ecological hotspot. At higher altitude plants like Acacia, Cinnamon, ficus, bamboo, cacti, Cardamom, pine trees and other evergreen alpine vegetation grows making it a nature's paradise. The forests also include oak, birch, maple and alder. Kalimpong is also one of the largest exporters of flowers including Rhododendron, Orchids and gladioli. Mammals includes Red Panda, goral, gaur, Himalayan Black Bear, Clouded Leopard, Siberian Weasel, Asiatic black bear, barking deer, Himalayan Tahr and pangolin, etc. Birds include Himalayan Griffon Vulture, Scarlet Minivet, Grey-headed Canary Flycatcher, Velvet-fronted Nuthatch, Monal pheasant, hornbills, Black Baza, Eurasian Sparrow hawks, the Kalij Pheasant, etc. Neora valley is known for birding.
Places around Kalimpong are many and one can spend a few days visiting this places. There are lovelyhomestys and nice surrounding. Lava, Lolaygaon, Reshikhola, Ramdhura, Damsang, Rikissum, Sillery, Pedong, Furung, Dello, Munsong, Charkhol and Charkoley, Rishyap, Rishyap, Ramdhura, Reshikhola, Doban Valley, Iccheygaon, Monsong, Relli, Suntaleykhola, Samsing, Neora valley, etc.
Lava is a beautiful small popular hill destination just 32 kilometres away from Kalimpong thronged by inquisitive travellers, trekkers, mountain lovers and bird watchers due to the majestic view of mount Kangchenjunga and also forms the base for short trek into the Neora National Park. A Buddhist monastery, Jamgyong Kongtrul also known as Ratnarishi Bihar Buddhist Gumpa was established by Karma Lodro Chokyi Senge, the third Kongtrul Rimpoche.
Pedong is a small but brilliant destination some 20 kilometres from Kalimpong situated at an altitude of 5100 feet which offers breathtaking sight of Mount Kanchenjunga with serene and cool freshly greenery will charm and rejuvenate any city dweller having relax in this amazing place. Tinchuley is another attraction of Kalimpong and just nearly 03 kilometres away of Pedong. In sun dazzle daylight, Tinchuley offers majestic view of Kassang Valley and Sikkim Himalayan mountains. Kagey & Pedong is nearby and all have home stay facilities made available to travellers / tourist / trekkers. Rikkissum is another popular tourist destination adjacent to Pedong, merely 6 kilometres from Pedong and nearly 12 kilometres from Kalimpong. From Rikkissum, a breathtaking sight of Rishi Valley in Sikkim can be viewed in a fog free sunny day and an old fort in ruins nearby is a place to visit. Rishi Khola is located in the Kalimpong sub division on the West Bengal –Sikkim Border. Rishi Khola derives its name from the Reshi River (Khola - A small stream) and has gained prominence as an upcoming offbeat destination . Aritar, Furung, Lingsey, Lingtham & Pedong is nearby destination.
Adventure sports is also popular in this region Paragliding, Birding, Angling, Rafting, Mountain Biking, Enfield group, Trekking, etc are practiced here. Guest can have a taste of adventure in this region. Homestay are popular with one day or two day even three day trek can be organised from each destinations. Kalimpong - Relli River - Kaffer - Lolaygon - Lava - Algarah-return to Kalimpong via Dr. Graham's Homes Tirpai. Hill (4 Days) & Kalimpong - Durpin Dara - Samthar busty - and return to Kalimpong by same route (2 Days) and other short trek through Neora valley can be quite exciting.
Places of Interest :
Gumbadhara / Pasting
Kagey
Iccheygaon
Ramdhura
Communication / Connectivity
Airways - Bagdogra Airpot (IXB) is approximately 80 Kilometres away from Kalimpong. Bagdogra airport is served by regular Indian Airlines, Kingfisher, Spice Jet, and Jet Airways. There are daily flights from Kolkata, Guwahati and Delhi. The airport is well connected by road and railways. After reaching Airport one can avail private vehicle to Kalimpong town and the way is scenic. Just after crossing the town of Siliguri one reaches Sevoke and drive along the River Teesta for two hours aand turn left for a short distance to reach Kalimpong.

Railways - New Jalpaiguri Railway Station (NJP) is approximately 82 Kilometres away and is the nearest railway station for Kalimpong. New Jalpaiguri Railway Station (NJP) is directly connected with all major stations in India. There are regular train services to all the major railway station like Chennai, Delhi, Kolkata, Patna, Mumbai, Jaipur, Guwahati, Bangalore, Sealdah, Howrah, Hyderabad, Ranchi, Jamshedpur, Agra etc. There are two more station inside the town of Siliguri known as the Siliguri Town Station and Siliguri Junction.
Roadways - Kalimpong is well connected to Siliguri is approximately 75 Kilometres i.e. 2 hours journey. Gangtok is 2 ½ hours drive from Kalimpong and Darjeeling is 1 ½ hours drive from Kalimpong. It takes longer to reach Kalimpong from Siliguri via 125 kilometer road i.e. the Sevoke – Bagrakote - Gorubathan - Lava route as traffic is minimal but the route is scenic. The journey from Darjeeling to Kalimpong is a beautiful experience. The road drops from Ghoom 7407 feet to Teesta Bazar 700 feet in just 15 kilometres and passes through lush green forests, orange orchard and tea gardens. Lamahatta, Peshok or other way Tinchuley. One can stop at the view point of Lovers Meet from where the confluence of river Teesta and Rangeet can be seen.
Dreamway Destinations Arrange Vehicle & Hotels At The Following Destinations

Paro || Thimphu || Punakha || Phuentsholling || Bumthang || Gangtey || Trongsa || Haa Valley || Kathmandu || Pokhara || Chitwan || Nagarkot || Dhulikhel || Lumbini || Sarangkot || Jomsom || Muktinath || Darjeeling || Kalimpong || Lava || Lolegaon || Chilapata || Chapramari || Mirik || Lamahatta || Tinchuley || Chota Mangwa|| Bara Mangwa || Pedong || Reshi || Darap || Sillery Gaon || Chimney || Chatakpur || Sitong || Latpunchar || Magurmari || Takdah || Ramdhura || Ravamgla || Namchi || Pelling || Chaayataal || Rinchenpong || Uttarey || Jhand || Cooch Behar || Rajabhatkhawa || Jayanti || Chalamthang || Temi || Chemchey || Temi Tea Garden || Bunkulung || Shivkhola || Ariter || Zuluk || Nathang Valley || Chayataal || Kagey || Rikissum || Mungpo || Hee || Bermiok || Uttarey || Varsey || Yuksom || Lachen || Lachung || Mangan Chungthang || Gorumara (Lataguri) || Madarihat (Jaldapara) || Rinchenpong || Toto Para || Selim Hills || Runglee Rungliot || Zurran Tea || Deollo || Algarah || Palmazua || Okhrey || Soreng || Sreebadam || Sndakphu || Relli Khola || Reshi Khola || Aritar || Samthar || Chuikhim || Rasikbill || Mongsong || Martam || Biksthang || Baggura || Namchi ||Rishop || Rongbull || Samsing || Suntaleykhola || Jhalong || Bindu || Yangtey || Yangyang || Nathu La || Jelep La || Padamchein || Mulkharkha || Latpanchar || Lepchajagat || Buxa Tiger Reserve || Solophok || Sumbuk || Turuk || Mankhim || Chimni || Kettle Valley || Kurseong || Fagu Tea || Makaibari || Cherry Resort || Temi Tea || Borong || Chungbung || Dhupjhora || Ravangla || Barfubng || Baiguney ||Gahunbari || Rolep ||Sikip ||Solophok || Sumbuk || Tashiding || Pastanga || Rangbang || Singell || Tumling || Kitam Bird Sanctuary || Galeythar || Garuchira || Charkhol || Holumba || Rangaroon || Malbazar || Mongpong || Chibo || Tabakoshi || Paren || Tadey || Tangtey || Kalipur || Murti || Chitrey || Peshok || Mineral Spring || Kaziranga || Majuli || Imphal || Dimapur || Shillong || Guwahati || Manas National Park || Cherrapunjee || Sibsagar || Jorhat || Pobitora || Ziro || Tawang || Bomdilla || Dirrang || Bhalukpong || Along || Mawlynnong || Kohima || Imphal || Champai || Manipur || Meghalaya || Nagaland || Dimapaur || Mokokchung || Wokha || Mon || Phek || Kiphire || Dawki || Namdhapa National park || Tezu || Noing || Ramsai || Loktak Lake || Moreh || Moirang || Agartala || Jampui Hills || Unakoti || Pilak ||Devtamura || Aizwal || Champhai || Lunglei ||Durtlang Hills ||Khawbung || Murlen National Park || Haflong || Dzukou Valley || Dolo Mando || Dilopolyang Maniipolyang || Talley Valley || Kile Pakho ||Leshemi Village || Khezhakeno Village || Pfutseromi Village ||Silchar