Darjeeling Town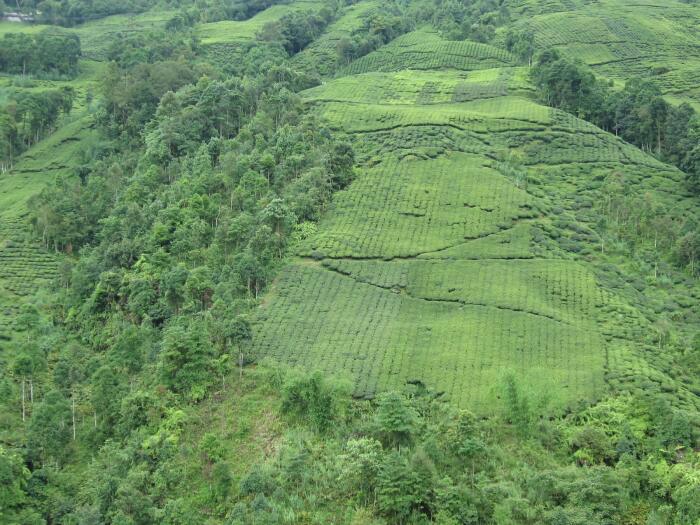 Darjeeling conjures visions of serenity, of vibrant green hills steeped in splendor. Land of breathtaking beauty crowned by the majestic Himalayas, amidst undulating tea gardens, mesmerizing scenic beauty and great location popularly known as the Queen of the hills. Jewel in the crown of the Eastern Himalayas and offers spectacular views of the Himalayan ranges including Mount Everest, Mount Kanchendzonga and the spectacular Himalayan range. Famous for tea gardens, breathtaking valleys and scenery, situated at an elevation of 2123 meters / 70001 feet, it has a rich legacy. The traveler - whether a student or a adventurer, an ornithologist or a photographer, a botanist or an artist - one will find in Darjeeling an experience which will remain etched in memory forever. Kalimpong, Kurseong and Mirik are three subdivisions of Darjeeling hills. It is also known for its Mountain railways of India popularly known as Toy Train. Darjeeling Himalayan Railway, added to UNESCO's World Heritage List in the year 1999. It scales an elevation of 326 meters to 2,203 meters. We charter / hire Darjeeling Himalayan Railway or attach bogie subjected to the numger of guest. We do organize excursion with Darjeeling Himalayan Railway. Darjeeling Himalayan Train with Steam locomotive or diesel locomotive is hired or chartered by us. There are regular trains from New Jalpaiguri, Darjeeling, Kurseong and few arrangement for joy ride in DHR.
Darjeeling town is a hill station in north east India and is in the state of West Bengal. The nearest airport is Bagdogra (IXB) and the nearest major railway junction is New Jalpaiguri Railway Station (NJP). It takes about 3 to 3.5 hours to reach Darjeeling from both these locations by car. The town is small (about 10 square kilometres), Darjeeling is also a district and spans over a large area of about 3108 square kilometres. The district consist of Kalimpong, Mirik, Kurseong, Siliguri, Naxalbari, Bagdogra, Maneybhanjan, Sandakphu, Jorepokhori, Deollo, Pedong, Reshi, Samthar, Baramangua, Mungpoo, Odlabari, Latpanchar, etc are some of the other tourist spot. The hill town was originally set up as a sanitarium or health resort by the British in mid 1800s. But over the years, it earned its name for its world famous aromatic or Orthodox tea and then with opening up of roads and Darjeeling Himalayan Railway. While driving to Darjeeling guest will cross numerous sprawling tea estates.
Other places of interest: for visit / stay are Lepchajagat, Baramangua, Tinchuley, Peshok, Palmajua, Jorepokhori, Sukhiapokhri are few other spots worth visiting. Maneybhanjan is the base camp for Sandakphu. Kurseong – At an altitude of 4860 feet / 1482 meters and it is exactly halfway between Darjeeling and Siliguri. It is a bustling town. A quiet town between Siliguri and Darjeeling noted for its secluded charm and Eagle's Crag, offering a commanding view of the undulating plains below. Places to visit are Eagle's Crag, Deer Park, Forest Museum, Giddhapahar Netaji (Subhash Chandra Bose) Museum, Shiv Mandir, Makaibari Tea Estate, Saint Mary's Hill, Downhill, Bagora and Chimney Dhura. Few beautiful Places like Chatakpur Home stay, Kettle Valley, Tathagata Home Stay, Takdah, Dilaram, Sittong Home Stay near Latpanchar, Lamahatta near Tinchuley are fast gaining popularity among tourist.
Places of Interest
Communication / Connectivity
Airways – Bagdogra Airport (IXB) is approximately 100 kilometres from Darjeeling. Bagdogra airport is served by regular Indian Airlines, Spice Jet, Kingfisher and Jet Airways. There are daily flights from Kolkata, Guwahati and Delhi. The airport is well connected by road and railways. Private vehicles for nearby tourist spots are available from the airport.
Railways – Darjeeling has a narrow gauge Junction with the heritage train plying from New Jalpaiguri (NJP) to Darjeeling on daily basis. New Jalpaiguri (NJP) is approximately 100 kilometres away and is the nearest major railway station. New Jalpaiguri (NJP) station has all the three gauges i.e. Narrow, Meter and Broad. There are regular train services to all the major railway station like Chennai, Delhi, Kolkata, Patna, Mumbai, etc.
Roadways – Situated in the extreme end of National Highway number 55. Branches off from National Highway number 31 and at a distance of 90 kilometres from Siliguri is Darjeeling. It is approximately 100 kilometres from Bagdogra Airport (IXB). It is a little over a 115 kilometres from Gangtok, and approximately 60 kilometres from Kalimpong. Darjeeling is well connected to Siliguri by four alternate routes.
Route Map