Sikkim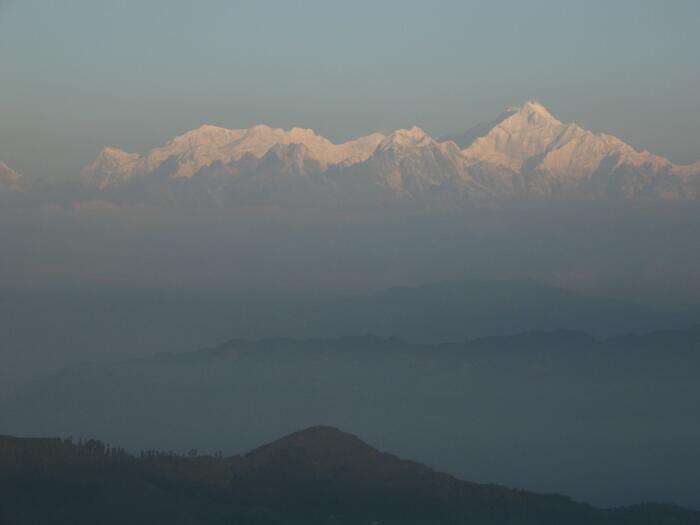 22nd State of India known for its strategic location and as one of the last Himalayan `Shangri - La`, its climate, natural beauty, and the fine cultural heritage attract tourists from all over the globe. Nearly a wide range of Orchids and varied species of butterflies are found at various altitudes of the state. Its remoteness, spectacular mountain terrain, varied flora – fauna, monasteries and the marvelous view of the Himalayan Range makes it a unique destination. Sandwiched between Nepal, TAR in China and Bhutan is this beautiful state of India. Pleasing weather almost throughout the year thus offering a quiet and relaxed holiday. The four districts are East Sikkim, West Sikkim, North Sikkim, and South Sikkim. The district capitals are Gangtok, Geyzing, Mangan and Namchi respectively. Some of the newly developed tourist spots are Ravangla, Lachen and Lachung. Lachung is known for Yumthang, Hot water spring, Katao and Yumesomdong whereas Lachen is known for Gurudongmar Lake, Chopta Valley, Thangu and Green Lake. Tso Lhamu Lake is another attraction from Lachen. Situated at a height of about 5099 meters / 16,730 feet and is the source of the river Teesta. Other than Kanchendzonga National Park there are 4 wildlife sanctuaries, namely Fambong Lho, Maenam, Shingba, Kyongnosola, and Varsey. Monasteries form an integral part and there are nearly 195 monasteries or Gompas belonging to the Nyingmapa Sect, Kargyupa Sect, Gelugpa, Sakyapa and Bon faith.
One can also venture in the virgin area of southeast Sikkim to Arhitar Lake, Mulkharka Lake, Thambi View Point, Baba Dham, Kupup in Nathang Valley, Memencho Lake, New Baba Mandir, and Jelep La pass. River Teesta is the main river and its tributaries are Zemu, Lachung, Rangyong, Dikchu, Rongli, Rangpo and Rangit from the north to the south. The Himalayan range gives the panoramic view of mount Kanchenjunga 8598 meters, The third highest peak in the world. The other peaks consist of Kumbha Karna, 7711 meters, Pendem, 6706 meters, Narsingh, 5825 meters, Kabru Dome, 6545 meters
Some of the offbeat destinations are - Biksthang in West Sikkim is an offbeat spot for the great view of Mount Kanchenjunga. Yangtey in West Sikkim is 01 kilometer from Geyzing and nearly 10 kilometers from Pelling. Tukla In East Sikkim is on the way to Nathula pass and provides a great view of Mount Kanchenjunga. Tsolamu lake in North Sikkim is beyond Gurudongmar lake. This is the source of River Teesta. Singhik in North Sikkim is known for the magnificent view of Mount Kanchenjunga. Tourist destinations like Hee, Bermiok, Uttarey, Varsey, Sribadam, Ravangla, Kaluk, Rinchenpong, Namchi Chaar Dham, Dzongu, Reshikhola, Lingsey, Lachen, Lachung, Mangan, Gangtok, Doban Valley, Rumtek, Yuksom, Darap, Chayataal, etc are some of the popular attraction of traveler/tourist. Home Stay in various places also attracts tourists in hordes. A new Airport namely Pakyong has enhanced tourism in Sikkim. The next big move is the New railway track being laid at Rangpo which will help tourists to travel less by car and cover more places by reducing the journey time to Gangtok. We arrange for Sikkim Packages and book hotels along with various other components of the tour like paragliding, Rafting, Ropeway, Trek and other tourist activities. We arrange to pick up and drop from Bagdogra Airport (IXB) & New Jalpaiguri Railway Station (NJP). We also arrange a vehicle for sightseeing and package tour. Our package tour includes vehicles and hotel or resorts. Gangtok - Darjeeling, North Sikkim package is the most popular packages.
Indian tourists require no entry permits to enter Sikkim, except for the restricted areas. Foreign tourists require a special permit, which is easily available at all Indian missions abroad who are authorized to issue a 15 - day permit. The same can also be obtained from any of the Sikkim Tourism offices. The tourism officer at the border town of Rangpo is also authorized to issue a 2 - day permit to foreign tourists to enable them to enter the state and acquire the full 15 - day permit. Best Time to visit the state is mid - February to mid - June & mid - September to December. December to February is also enjoyable as it snows in most parts of the state. Sikkim Packages are also organized by us.
Places of Interest
Communication / Connectivity
Airways – Pakyong Airport (PYG)is nearly 30 kilometers from Gangtok started on 24th September 2018. Bagdogra Airport (IXB) is the major airport and is approximately 130 kilometers and is 03 to 04 hours drive. Pelling is 145 kilometers and is 4 to 5 hours' drive. Helicopter Service - The Bagdogra airport is connected to Gangtok by a helicopter service which takes approximately 30 minutes to reach Gangtok. Sikkim Tourism Development Corporation operates this service daily at 11:00 AM from Gangtok to Bagdogra and at 2:00 PM from Bagdogra to Gangtok. It is a five seated chopper and it can be availed for flying within Sikkim.
Railways – Sikkim has no railway system but planning for a transit system is on the card. The nearest major railway station is New Jalpaiguri (NJP) and is assessable from all the major town / cities of Sikkim. NJP is well linked up with the rest of the country with frequent trains. There is three railway stations nearer to Sikkim Bengal borders but the frequency of trains is less.
Roadways – The network of roads in Sikkim is good compared to the difficult terrain it is approximately 130 kilometers from New Jalpaiguri Station (NJP) / Bagdogra Airport. Each and every tourist spot are well served by the fleets of Sikkim Nationalised Transport (SNT). Ravangla is 55 kilometers from Gangtok, Chungthang is 95 kilometers, Lachen and Lachung are nearly 120 kilometers, Kalimpong is 90 kilometers and 95 kilometers is Darjeeling . One can also avail of shared vehicles. To save some time it's better to avail private vehicles. All the tourist spots are well connected by road but some areas are restricted to vehicles but passes are available if made in advance.
Dreamway Destinations Arrange Vehicle & Hotels At The Following Destinations

Paro || Thimphu || Punakha || Phuentsholling || Bumthang || Gangtey || Trongsa || Haa Valley || Kathmandu || Pokhara || Chitwan || Nagarkot || Dhulikhel || Lumbini || Sarangkot || Jomsom || Muktinath || Darjeeling || Kalimpong || Lava || Lolegaon || Chilapata || Chapramari || Mirik || Lamahatta || Tinchuley || Chota Mangwa|| Bara Mangwa || Pedong || Reshi || Darap || Sillery Gaon || Chimney || Chatakpur || Sitong || Latpunchar || Magurmari || Takdah || Ramdhura || Ravamgla || Namchi || Pelling || Chaayataal || Rinchenpong || Uttarey || Jhand || Cooch Behar || Rajabhatkhawa || Jayanti || Chalamthang || Temi || Chemchey || Temi Tea Garden || Bunkulung || Shivkhola || Ariter || Zuluk || Nathang Valley || Chayataal || Kagey || Rikissum || Mungpo || Hee || Bermiok || Uttarey || Varsey || Yuksom || Lachen || Lachung || Mangan Chungthang || Gorumara (Lataguri) || Madarihat (Jaldapara) || Rinchenpong || Toto Para || Selim Hills || Runglee Rungliot || Zurran Tea || Deollo || Algarah || Palmazua || Okhrey || Soreng || Sreebadam || Sndakphu || Relli Khola || Reshi Khola || Aritar || Samthar || Chuikhim || Rasikbill || Mongsong || Martam || Biksthang || Baggura || Namchi ||Rishop || Rongbull || Samsing || Suntaleykhola || Jhalong || Bindu || Yangtey || Yangyang || Nathu La || Jelep La || Padamchein || Mulkharkha || Latpanchar || Lepchajagat || Buxa Tiger Reserve || Solophok || Sumbuk || Turuk || Mankhim || Chimni || Kettle Valley || Kurseong || Fagu Tea || Makaibari || Cherry Resort || Temi Tea || Borong || Chungbung || Dhupjhora || Ravangla || Barfubng || Baiguney ||Gahunbari || Rolep ||Sikip ||Solophok || Sumbuk || Tashiding || Pastanga || Rangbang || Singell || Tumling || Kitam Bird Sanctuary || Galeythar || Garuchira || Charkhol || Holumba || Rangaroon || Malbazar || Mongpong || Chibo || Tabakoshi || Paren || Tadey || Tangtey || Kalipur || Murti || Chitrey || Peshok || Mineral Spring || Kaziranga || Majuli || Imphal || Dimapur || Shillong || Guwahati || Manas National Park || Cherrapunjee || Sibsagar || Jorhat || Pobitora || Ziro || Tawang || Bomdilla || Dirrang || Bhalukpong || Along || Mawlynnong || Kohima || Imphal || Champai || Manipur || Meghalaya || Nagaland || Dimapaur || Mokokchung || Wokha || Mon || Phek || Kiphire || Dawki || Namdhapa National park || Tezu || Noing || Ramsai || Loktak Lake || Moreh || Moirang || Agartala || Jampui Hills || Unakoti || Pilak ||Devtamura || Aizwal || Champhai || Lunglei ||Durtlang Hills ||Khawbung || Murlen National Park || Haflong || Dzukou Valley || Dolo Mando || Dilopolyang Maniipolyang || Talley Valley || Kile Pakho ||Leshemi Village || Khezhakeno Village || Pfutseromi Village ||Silchar